For best prices book here!

Terry offers you the warmest welcome to the best B&B in Abingdon…
Welcome to Abbey Guest House, Abingdon-on-Thames
After winning numerous
awards
for "Access & Inclusivity" over the recent years, in October 2017 Terry was invited to speak on Radio Oxford supporting Tim Gardiner – the Chairman of '
Tourism for All
'. Tim was speaking about the launch of TfA's new campaign "
Tourism is for Everybody
". As someone who is very keen to ensure that "everybody" is welcome at the Abbey Guest House in Abingdon-on-Thames, it was quite fitting for Terry to be able to speak a little about this and also about other accessibility issues. If you would like to listen to the full broadcast then please click on the link below:
On the following pages visitors to this site can look at a lot of detail about what is offered, but a some key points are:
There is cosy guest lounge where guests are welcome to sit and relax – with the addition of a welcoming fire when it is cold outside.
The whole house is accessible to virtually everyone as a lift (elevator) gives access to the upper floor.
There are two family rooms; the smaller one is a triple room, and the larger one is a massive family room that is wheelchair friendly and can cater for 5 or 6.
** See our Rates page for details of our "Special Offers" **
We are a quiet, 'Home from Home', non smoking, multi-award winning, highly accessible B&B, in the historic town of Abingdon-on-Thames. A choice of 7 en-suite bedrooms includes ground floor 'Easy Access' (with wet room), first floor 'Family Accessible' (with wet room) and 'Allergy Friendly'.
Guests enjoy private parking (with Blue Badge bay), excellent bus services and local amenities, secure cycle/scooter storage, Fair Trade items and free WiFi.
All guests have shower rooms and access to a guest bathroom. Room facilities include: digital Freeview TV & DVD player, free security safe, hair-dryer, towelling robes, iron and ironing board. A host of extra equipment, aids and information is available as we offer a flexible and responsive service for all ages and requirements.
From just outside Abbey Guest House, modern accessible buses provide frequent 20 minute journeys to Oxford town centre, coach and railway stations, with fast onward journeys to London, Birmingham etc. Train services from farthest West Wales or Bristol stop at nearby Didcot Station where buses again link quickly to 'our' bus stop outside.
Click here for Visit Oxford and Oxfordshire Tourism web site
Read more about our accessible quality guest house here.
Our accommodation offers a choice of comfortable single, double, twin and family rooms, with well-appointed en-suites
A relaxing guest lounge, with library and excellent breakfasts along with a view of the newly landscaped accessible garden
Guests enjoying a typical Abbey Guest House breakfast
Click here to take a virtual tour of Abbey Guest House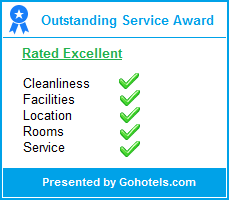 ---
Proprietor: Mrs Terry Boswell
Abbey Guest House,
136 Oxford Road,
Abingdon-on-Thames,
Oxfordshire,
OX14 2AG
Tel/Ansaphone: +44(0)1235 537020
Mobile: +44(0)7976 627252
Email: info@abbeyguest.uk
Text Relay Dial 18001 before number